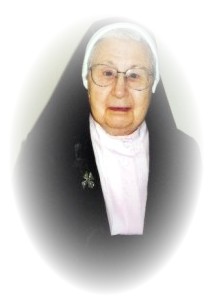 Sr. Simon entered St. Scholastica in 1940 and made her religious profession on June 24, 1943. Her first ministry assignment was as an office worker at the Clarksville Hospital. She earned an art degree and a teaching degree, taught for 30 years, and was in community for 62 years. She was particularly gifted as a water colorist and enjoyed writing poetry.
In addition to the Clarksville assignment, Sr. Simon taught in Stuttgart, Charleston, Russellville, Subiaco, Fort Smith and Barling. After retiring from teaching, she was sacristan for 12 years at the monastery. Later she lived in Fayetteville and then in Subiaco as a companion to sisters working in those locations. For the last several years, Sr. Simon had resided in our Infirmary.
She is survived by two sisters, Gertrude Lawler of Santa Fe, N.M., and Katherine Pendleton of Washington, IN; and a brother, Alois Edelhuber of Paris, AR. In addition to many nieces and nephews, she is also survived by her Sisters in community.