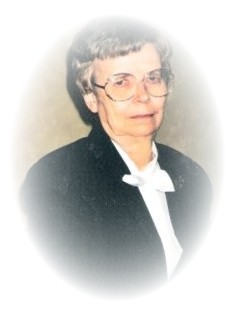 Sr. Maurine came to St. Scholastica as a high school student, and made her religious profession of faith on June 24, 1936. She taught elementary school for a total of 49 years in Arkansas and Texas, and earned a BSE in Education.
After retiring from teaching in 1985, she did parish work in Kansas City, then in Little Rock. Once she returned to the monastery, she had a variety of assignments. Sr. Maurine worked in the laundry, was sacristan, and faithfully rang the Angelus Bells each day. She also had dining room duties and made coffee for all our meals. For eleven years she held the position of assistant Oblate Director. She regularly visited nursing homes, entertaining the residents with her fine harmonica playing.
Sr. Maurine is survived by one sister, Agnes Warren of Woodward, OK; two brothers, Alvin Schmucker of Hereford, TX, and Arnold Schmucker of Tucson, AZ; several nieces and nephews, and members of her religious community.