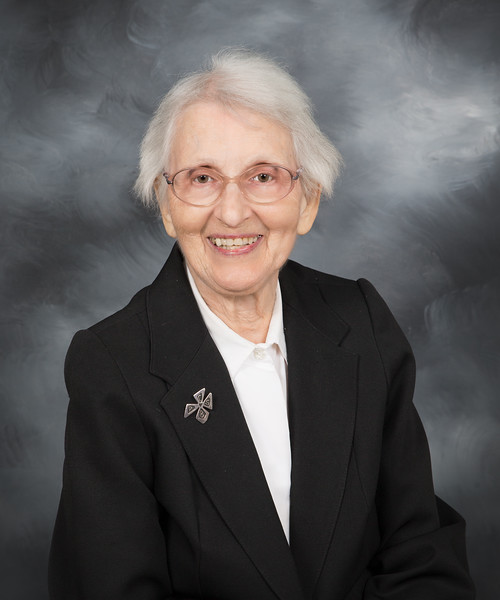 Sister Andrea Loran, age 96, a member of St. Scholastica Monastery, died July 13, 2023, at Chapel Ridge Health & Rehab in Fort Smith, Arkansas. Sister Andrea was born August 26, 1926, in Rhineland, Texas, to Liberatus and
Bertha Strubel Loran, and was named Helen. She was the eighth child of eleven born to the Loran family.
Sister Andrea entered St. Scholastica Monastery as a candidate on September 2, 1940, joining her sister, Sister Martha, as a Benedictine. Following her novitiate in 1947, Sister Andrea made her first profession on June 24, 1949, and her final profession on June 24, 1952.

Sister Andrea was gifted in hospitality, nurturing both body and soul in the culinary fields. She ministered in Paris, Fort Smith, North Little Rock, Clarksville, and Shoal Creek, Arkansas. She served in the dietary departments of two hospitals in Moberly and Booneville,
Missouri, for eight years.
In 1997 she served as a core team member of Hesychia House of Prayer, in New Blaine, Arkansas, until her retirement in 2009.

She attended Fontbonne College in Clayton, Missouri, in dietetics and food service. As long as she was able, Sister Andrea enjoyed cooking and tending to flower gardens. She loved to read a variety of authors and topics. She was a hard worker and made tasks seem effortless.
Sister Andrea was a gentle and approachable person with an infectious laugh. She truly knew what it meant to live Benedictine Hospitality.
She was dedicated to her family, faithfully keeping in touch with family and friends through
letter-writing and telephone calls. The Sisters at St. Scholastica Monastery thank Sister Andrea's caregivers at St. Scholastica's and at Chapel
Ridge Health & Rehab for their loving care for her.
She was preceded in death by her parents; her siblings, Ralph Andrew, and wife, Bonnie Loran, Sr. Martha Loran, OSB, of St. Scholastica, Fidelis (Slim) and wife Agnes Rose (Redder) Loran, Monica and husband Troy Myers, Mary and husband, Alphonse Kuehler, Daniel Loran,
Roselia and husband Roy Pokorny, Ruth Loran, Jeanette, and Marvin Zeissel, and Vincent (Brother Eric) Loran, OSB of Subiaco Abbey. She is survived by her many beloved nieces and nephews and members of her Benedictine
family.

A Vespers Service will be held Thursday, July 20, 2023, at 7:30 p.m. The Mass for Christian Burial will be Friday, July 21, 2023, at 10:30 a.m., with Fr. Leslie Farley, as presider, and Fr. Joseph Chan, chaplain, as concelebrant. Both services will be at St. Scholastica Monastery Chapel, with
burial in St. Scholastica Cemetery under the direction of Edwards Funeral Home of Fort Smith.
In lieu of flowers, memorials may be made to St.
Scholastica Monastery Continuing Care Fund, P.O. Box 3489, Fort Smith, AR 72913-3489.