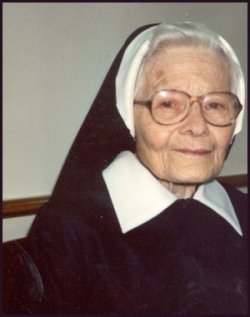 SISTER MARY JOHN WIEDERKEHR
Sr. Mary John made her religious profession on June 24, 1929. She had been the eldest sister in community for a number of years.
She loved the outdoors and spent most of her years as a gardener and groundskeeper. Many of our older trees were planted by Sr. Mary John. She grew medicinal herbs and made all manner of balms, salves and cough syrups which were used by the community. She frequently entertained the community and any guests visiting with her by singing songs in the German language and playing her harmonica.
She is survived by a large family of nieces, nephews, great-nieces, and great-nephews, and also by her sisters in community.