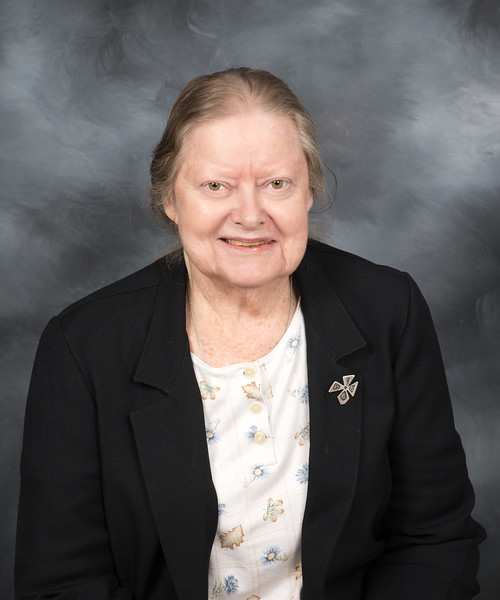 Sister Magdalen Stanton, OSB, age 84, a member of St. Scholastica Monastery, died at Chapel Ridge Health & Rehab on February 15, 2022. Lain Swafford Stanton was born on July 23, 1937 in Shreveport, Louisiana, to William Swafford and Jeannette Lain Swafford . She graduated from Germantown High School in Germantown, Tennessee, in 1955. Lain was a wonderful big sister to her brother and sister who were several years younger.

Before entering St. Scholastica Monastery, Lain was married and worked as an interior designer, bookkeeper, and photographer in Memphis. In the 1970's she attended Memphis State University part time. After her divorce, she moved to Fort Smith to be near her sister, Patty O'Brien. She converted to Catholicism and was baptized at Immaculate Conception Church in Fort Smith in 1993. A few years before entering the monastery, she lived in Subiaco and worked at the Gift Shop in Coury House.

Lain entered St. Scholastica Monastery in 1997 and became a novice in 1998, taking the name Sister Magdalen. She made perpetual profession on June 24, 2003. In the monastic community, Sister Magdalen taught calligraphy classes at the University of Arkansas-Fort Smith and gave calligraphy workshops. She was proud of the work of some of her students who continued practicing calligraphy. Using her calligraphy skills, she completed a beautiful necrology book, listing all the Sisters of St. Scholastica Monastery who had died. From 2001 to 2012, Sister Magdalen was Director of the Oblate Program. After learning to play the autoharp, she enjoyed playing for some of the community liturgies. Because of declining health, Sister Magdalen moved to the Infirmary in 2009 and later moved to Chapel Ridge Health & Rehab.

Sister Magdalen was a gracious Southern lady for whom art and beauty were very important. She was a voracious reader. She loved being surrounded by books and beautiful things.

She was preceded in death by her parents and sister-in-law, Cathie Swafford. She is survived by her brother, Bill Swafford in Boulder, Colorado; her sister, Patty O'Brien (Jim) in Fort Smith; her nephews, John Calhoun and Michael O'Brien; her nieces, Kym Wootton and Mary O'Brien; three great nephews and nieces; and members of her Benedictine community.

A Vespers Service will be on April 8 at 7:30 p.m. The funeral Mass will be on April 9 at 10:30 a.m. with Rev. Cassian Elkins, OSB and Rev. Joseph Chan presiding. Both services will be at St. Scholastica Monastery. Burial will follow in St. Scholastica's cemetery.