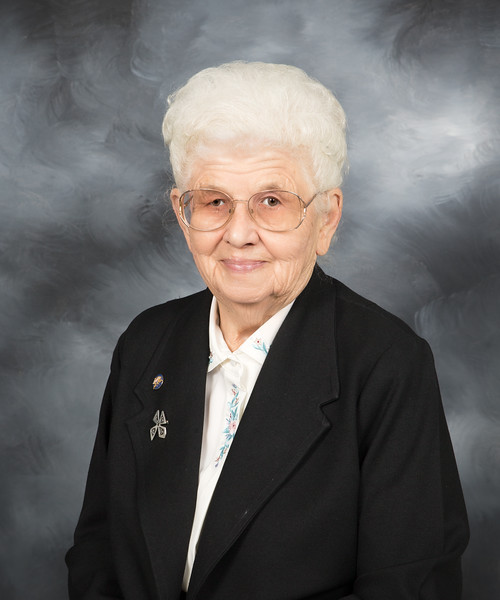 Sister Pierre Vorster, OSB, age 101, a member of St. Scholastica Monastery, died at Mercy Hospital in Fort Smith, after a brief illness on March 22, 2023. Catherine Marie Vorster was born on March 18, 1922, in Subiaco, Arkansas, to Dan and Agatha Kruse Vorster. She was dedicated to her family and loved them deeply. She grew up in the shadow of Subiaco Abbey.
Before entering St. Scholastica Monastery, she developed a love for politics and history, both of which she attributed to her father. After completing her elementary grades at St. Benedict School in Subiaco, Catherine entered the monastery on September 2, 1937, and became a novice on June 24, 1938, when she took the name, Sister Mary Pierre. On June 24, 1940, she made her first profession, and in 1943 she made her perpetual profession as a member of St. Scholastica Monastery.
Sister Pierre earned her degree in Biology and Chemistry Education in 1962 from Mount Saint Scholastica in Atchison, Kansas. She completed her Masters in Education Administration with a minor in Biology from Creighton, University in Omaha, Nebraska in 1968.
A dedicated teacher for thirty-two years, she taught at St. Scholastica in Shoal Creek, Holy Redeemer in Clarksville, St. Augustine in Dardanelle, St. Edward in Little Rock, St. Boniface, St. John, and St. Anne in Fort Smith, St. Mary in Hattieville, Arkansas and St. Pius X in Moberly, Missouri. She was an excellent teacher, projecting a formidable, no-nonsense attitude.
Beneath the strong exterior was a tender, compassionate heart. During her time as an educator, she earned many awards. In 1956, she received the Pelican Award, a Catholic Boy Scout award, from the Bishop of Little Rock, and later the first Marian Award for Girl Scouts. She earned recognition as the Outstanding Biology Teacher in Arkansas in 1971. In 1972, she was awarded the Dogwood Medal of Honor and the Citation Plaque for her contribution to education in 1973 for history, citizenship, and love of country. She was also named Outstanding Secondary Teacher of the Year.
Sister Pierre was also involved in many public issues outside the field of education, especially in areas of the environment, conservation, and elder care. She was appointed to serve on the Governor's Advisory Council for the Elderly under three different governors, Bill Clinton, Jim Guy Tucker, and Mike Huckabee. She worked tirelessly for the needs of the elderly and was recognized for her efforts. She was a member of the Arkansas-Oklahoma River Compact Commission from 1980-1992. In 1969, she received the Ruth Thomas Audubon Scholarship. Other awards included the Public Awareness Award, Outstanding Volunteer Award for Adult and Adult Services, Capital Citations from the State of Arkansas, and induction into the Arkansas Senior Hall of Fame.
In 1995, she received the first ever Annual Arkansas Volunteer of the Year Award, now known as the Sister Pierre Vorster Volunteer Award. She received the President's Call to Service award begun by President George W. Bush. She was active in the Audubon Society, Western Arkansas Area Agency on Aging, and Project Compassion. She served her monastic community as director of St. Scholastica Education Center, activity director for the Monastery Infirmary, editor of the monastery publication Horizons, and for twenty-five years as supervisor of the monastery grounds.
She loved nature and history and enjoyed playing cards, dominoes, and 'Five–Up'. She took delight in an occasional Arby's roast beef sandwich and a scoop of peppermint ice cream. She was proud of her German heritage and family. Her hometown in Subiaco, all of Logan County, and the community of St. Scholastica were quite dear to her. No one matched her style and ability. She has truly been a pillar of St. Scholastica Monastery, rooted both here and at Subiaco Abbey.
She was preceded in death by her parents and her siblings, Joseph Daniel Vorster, William August Vorster, Frank Bernard Vorster, and Mary Ann Altenhofel. She is survived by her sister, Bridget Weisenfels, and sister-in-law, Martha Vorster; many beloved nieces and nephews, great nephews and nieces; and the members of her Benedictine community.
Vespers Service will be on April 21, 2023, at 7:30 p.m. The funeral Mass will be on April 22, 2023, at 10:30 a.m., with Rev. Jerome Kodell, OSB, Abbot Elijah Owens, OSB, and Rev. Reginald Udouj, OSB presiding. Both services will be at St. Scholastica Monastery. Burial will follow in St. Scholastica's cemetery. Memorials may be made to St. Scholastica Monastery Continuing Care Fund, P.O. Box 3489, Fort Smith, AR 72913.