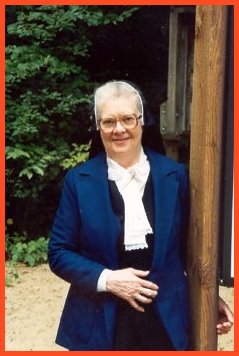 Sister Leonella made her monastic profession in 1936 and earned her master's degree in history from Creighton University in Omaha. Her 42-year teaching career included assignments in Prairie View, Charleston, Scranton, Altus, St. Vincent, Rogers, Subiaco, Tontitown, Clarksville, all in AR, and Pilot Grove, MO. She spent several years working as the monastery's librarian and archivist. In 1999 she retired to spend her time as part of the prayer team.
Her cousin, Abbot Jerome Kodell, OSB of Subiaco Abbey, presided at the funeral Mass.
She is survived by three brothers, Edwin Spanke of Schereville, IN, Theodore Spanke of Indianapolis, IN, and Francis Spanke of Overland Park, KS, and by her sisters in community.