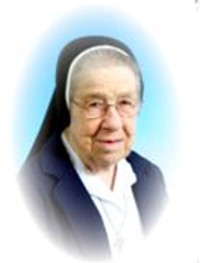 Sr. Teresina was born in Tontitown, Arkansas on April 12, 1915 and was baptised Agnes Cecilia Lazzari by her parents Joseph and Josephine Lazzari. She made her Religious Profession June 24, 1938.
A dedicated teacher, she received a bachelor's degree in education from Avila College in Kansas City and taught at St. John's and St. Boniface in Fort Smith, St. John's in Brinkley, Arkansas, St. Pius X in Moberly, Missouri, St. Joseph in Fayetteville, Arkansas, St. Benedict in Subiaco, Arkansas, St. Joseph's in Tontitown, Arkansas and Amarillo, Texas, and Paris, Arkansas. She retired back home to St. Scholastica Monastery in June, 1987.
She is survived by a brother, James Lazzari of Hood River, Oregon.