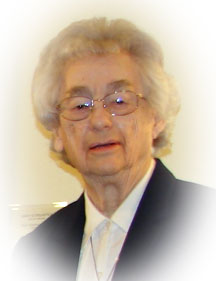 Sister Norbert was born in Nazareth, Texas on March 5, 1914, to Henry and Elizabeth Hoelting. She entered St. Scholastica Convent in 1928; received her State Elementary teaching certificate in 1939; earned a B.A. in Spanish from Mount Mercy College, Pittsburgh, Pennsylvania in 1944; and earned an M.A. in Religion from Notre Dame University, South Bend, Indiana in 1956.
Sister Norbert taught twenty-six years in Arkansas Catholic schools. Thirteen of those years were spent at St. Scholastica Academy, where she served as teacher, prefect, and principal.
She served the monastic community as formation director from 1959-67 and 1993-96. She was elected prioress on December 28, 1976, serving a four-year term.
During her career, Sister Norbert also worked at St. Thomas Aquinas Newman Center at the University of Arkansas, Fayetteville; at St. Michael Indian School in Arizona; and as administrator of St. Joseph Home in North Little Rock.
For the past twelve years, Sister Norbert taught Scripture and Patristics to new community members, assisted as receptionist in the monastery office, and served on several committees.
Vespers was 7:30 p.m. March 9 at St. Scholastica Monastery. Her Funeral Mass was held at 10:30 a.m. March 10 at St. Scholastica Monastery.
Sister Norbert is survived by a brother, Norbert Hoelting and his wife Mary of Olpe, Kansas, and two sisters-in-law, Tina Hoelting of Nazareth, Texas, and Maurine Hoelting of California, numerous nieces and nephews; and the members of her monastic community.
Her nieces and nephews served as pallbearers.Memorial donations may be made to St. Scholastica Continuing Care Fund, P. O. Box 3489, Fort Smith, AR 72913.Donate In Sr. Norbert Hoelting's Memory
via secure PayPal