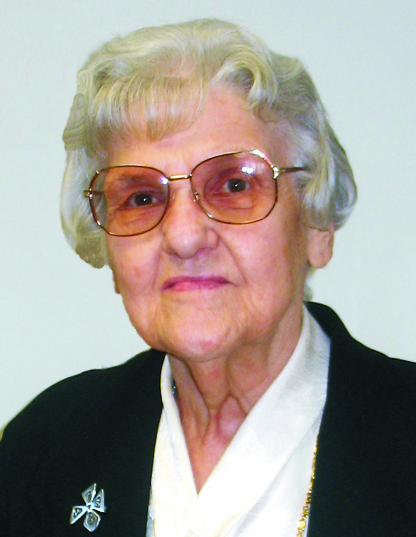 Sister Xavier Perona, 90, of St. Scholastica entered into eternal life on Thursday, February 10, 2011. Frank and Carolina Perona welcomed Josephine Catherine into their family Jan. 13, 1921. She entered St. Scholastica Convent in 1936, and on her investing day, she received the name of Sister Xavier. Sister Xavier began her training for nursing in 1940 at St. Joseph Hospital in Boonville, Mo. She worked as a nurse in Dermott, Morrilton and Clarksville in Arkansas and Booneville in Missouri. The last 18 years were spent at the veterans hospital in Fayetteville. She touched the lives of many people in her ministry to the sick.
She was preceded in death by her parents; one sister, Angelina Bersi; and two brothers, John and Louis Perona.
Evening praise will be 7:30 p.m. Monday at St. Scholastica Monastery Chapel. Funeral Mass will be 10:30 a.m. Tuesday at St. Scholastica Monastery Chapel with burial to follow at St. Scholastica Cemetery. Arrangements are under the direction of Fentress Mortuary of Fort Smith.
Sister Xavier is survived by one brother, Frank Perona of Orange, Calif.; nieces and nephews; and her religious community.
Memorial donations may be made to St. Scholastica Continuing Care Fund, P. O. Box 3489, Fort Smith, AR 72913.Donate In Sr. Xavier Perona's Memory
via secure PayPal