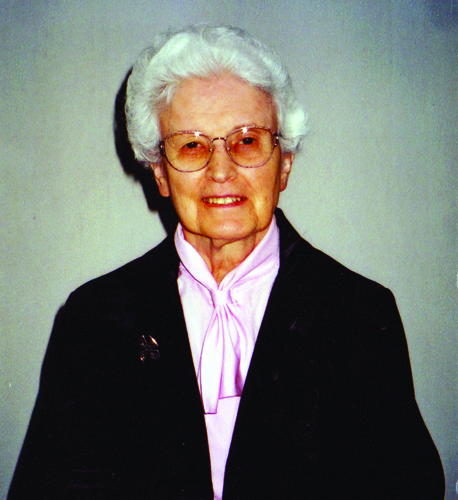 Sister Marie Rose DeSalvo, OSB (formerly Sister Angela), 91, entered into eternal life on Saturday, August 8. A native of Center Ridge, Sister Marie Rose professed her religious vows in 1943. She taught 26 years in Catholic schools in Arkansas, Oklahoma, and Missouri. In the later years of her career she felt called to social work and pastoral care. She worked as a social worker in the Diocese of Amarillo for seven years and in pastoral care ministry at St. Edward Hospital, Fort Smith 1986-97. She has resided in the monastery infirmary since 2001.
Sister Marie Rose is survived by ten sisters, Clara Granger, Emma Petty, Virginia Lambert, Patricia Hart, Delores Hartman, Margaret Hart, Christina Koch, Angela Malik, Antoinette Hall and Beatrice Miller. She is survived by two brothers, Tommy and Tony.
Preceding her in death are her parents, her step-mother, Frances, and six brothers, Abbot Raphael, Brother Tobias, Michael, Henry, Augustine, and Abraham. Pallbearers will be her nieces and nephews: Edward Granger, Peter Hart, Linda Lentz, Marietta Lemons, Eugene Malik and Hank DeSalvo.
Her funeral Mass was celebrated on Monday, Aug. 17, 2015, at 10:30 a.m. with her nephew, Fr. T. J. Hart, presiding, followed by burial in the Monastery cemetery.
Memorial donations may be made to St. Scholastica Continuing Care Fund, P. O. Box 3489, Fort Smith, AR 72913. Donate In Sr. Marie Rose DeSalvo's Memory
via secure PayPal