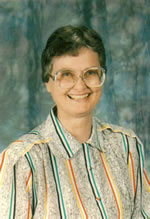 Sister Rosarita Huber, 87, of Fort Smith, Arkansas passed away May 7, 2016 in Fort Smith, Arkansas. The family of George and Sophie Huber welcomed their daughter, Gertrude Louise, into their family on September 24, 1928 in Subiaco, Arkansas.
She attended St. Scholastica Academy and entered St. Scholastica Monastery making her religious profession on June 24, 1948, taking the name Sister Mary Rosarita. She received her Bachelor's Degree in music with the emphasis in organ, and a minor in education from Webster College, in Webster Groves, Missouri. Subsequently she earned her masters from St. Joseph College in Rensselaer, Indiana in education.
She began her 48-year teaching career in 1948, serving in St. Scholastica School, St. Boniface School, St. Scholastica Academy, St. Edward School, Subiaco Academy, and St. Scholastica Education Center. From 1970 to 1996, she taught at Howard and Tilles Public Schools in Fort Smith.
She was a gifted musician and served the community as organist, music teacher and choral director. After retiring from teaching Sister Rosarita served the community as the manager of the monastery laundry from 2001-2016.
She is preceded in death by her parents George and Sophie, two siblings, Sisters Herbert Huber and Marie Huber, OSB and her brother-in-law Aloys.
She is survived by the sisters of her community; brothers, Herbert J. Huber Stan A. Huber; and sister Therese Hoelzeman; her sisters-in-law, Brenda and Heidi; and many beloved nieces and nephews.
The funeral Mass was celebrated at 10:30 AM, Tuesday, May 10, 2016 with Father Leslie Farley, St. Scholastica Monastery chaplain, as presiding, followed by burial in the monastery cemetery.
Memorial donations may be made to St. Scholastica Continuing Care Fund, P. O. Box 3489, Fort Smith, AR 72913. Donate In Sr. Rosarita Huber's Memory
via secure PayPal