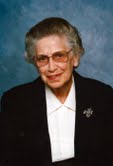 Sister Richard Walter, OSB, of St. Scholastica Monastery, Fort Smith, entered into eternal life on March 1, 2012 at the age of 96. She was born on November 25, 1915 in Conway, Arkansas, to John and Josephine Walter. She entered St. Scholastica Convent in 1934 and made her monastic profession on June 24, 1937. During her career she was a cook and housekeeper in Immaculate Heart Church, Marche; St. Joseph School, Paris; and Bishop Albert Fletcher's residence, Little Rock, where she served for eight years. In 1957 she returned to manage the monastery kitchen, a position she served in until her retirement in 1994. Sister Richard's dinners were known for their beautiful presentation. The sisters who enjoyed her cooking will always remember her southern fried chicken.
An accomplished gardener, Sister Richard planted rows of azaleas outside the monastery kitchen.
She is survived by six sisters, Margaret Parks, Frances McCaig, Mary Stephens, Hilda Hoyt, Martha Lock and Josephine Wood; two brothers, Johnnie and Fred; numerous nieces and nephews; and the members of her monastic community. Preceding her in death were her parents and four brothers, Diederich, Pete, Ed, and Martin.
Vespers for the dead were prayed on March 3 at 7:30 p.m. in the Monastery Chapel. The funeral Mass was held March 4 at 10:30 a.m. in the Monastery Chapel with the Rev. David McKillin, OSB presiding, followed by burial in the monastery cemetery.
Memorial donations may be made to St. Scholastica Continuing Care Fund, P. O. Box 3489, Fort Smith, AR 72913.Donate In Sr. Richard Walter's Memory
via secure PayPal